The iconic British indie band Blur has recently made a much-anticipated announcement regarding their upcoming ninth studio album. However, the cover art for the album has left me, as a devoted fan, slightly perplexed.
Blur has chosen to feature an image by renowned photographer Martin Parr as the artwork for their forthcoming release (track list below). Known for his portrayal of themes such as leisure, consumer culture, and satire, Parr's selected image depicts Gourock Lido in Scotland during a visit in 2004.
The photo captures lone swimmer, Ian Galt, in the saltwater pool, positioned directly on the banks of the Clyde Estuary in Inverclyde. The stark contrast between the vivid, luminous blue pool and the brooding atmosphere of the stormy sky and choppy river waters aligns with Parr's affinity for clichés. This particular image was commissioned by architect John McAslan, as part of a project titled A8, which explores the area where McAslan spent his childhood, spanning from Port Glasgow to Dunoon.
Gourock outdoor pool, Scotland's oldest heated swimming pool, has been a cherished spot for locals since its opening in 1909. Scottish fans of Blur were quick to recognize the lido when the album announcement spread across social media, prompting Inverclyde Council to acknowledge the connection via a tweet.
What is really great about this work of photography is that it's getting tons of emotions out of onlookers. As reported by F Stoppers, Many people have said that they dislike the image for some reason that they can not quite pinpoint, and that's exactly why I love it.
The image itself does give you a sickly feeling and you are not alone in feeling this either. The image is tilter ever-so slightly, that to the normal onlooker, they won't be able to tell that this was done. Once diving deeper in, you can see the small tilt that's causing you to feel sea sick.
The cover art seems to pay homage to Blur's 1991 album "Leisure" and their 1995 release "The Great Escape," both of which feature swimmers. "The Ballad of Darren," Blur's forthcoming album, is set to be released on July 23, 2023, creating anticipation among fans for what lies ahead musically.
While the choice of cover art may puzzle some, we can't wait to hear what's next.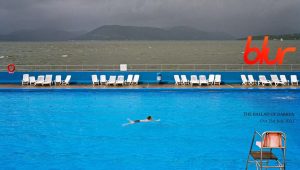 The Ballad Of Darren, out 21st July 2023.

1. The Ballad
2. St Charles Square
3. Barbaric
4. Russian Strings
5. The Everglades (For Leonard)
6. The Narcissist
7. Goodbye Albert
8. Far Away Island
9. Avalon
10. The Heights

Pre-order now: https://t.co/NYFL2LWFDV pic.twitter.com/qYbul5MHgS

— blur (@blurofficial) May 18, 2023