Supergrass was one of the most unfairly overlooked gems of the britpop era. Best known for their energetic pop songs, like most britpop acts their later albums showed a more mature and intricate sound. Of course, when it comes to Supergrass their immaturity was a big part of their charm. Here are their five best albums:
5. Road To Rouen [2005]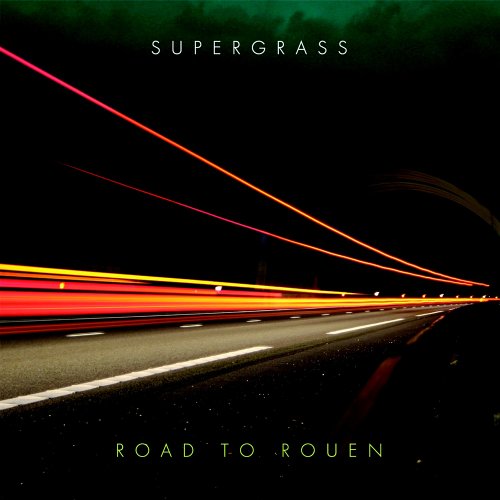 For a band best known for their crazy antics and their lead singer's wacky sideburns, perhaps 'mature' isn't the best word to describe them. But this is as chilled out as the 'grass are going to get. With its long, driving intros and mellow and groovy feel it has a very different sound than their earlier albums. It's also their darkest album, as much of the band was going through difficult situations in their personal lives.
4. In It For The Money [1997]

With its power-chords and driving guitar lines this might be the most intense of their albums, just look at Richard III. But tracks like Late in the Day and It's Not Me show their melancholy poignant side. Coming just two years after their teenage masterpiece, this album shows off their control of intricate melody, which couples quite nicely with their cheeky pop sensibilities.
3 Supergrass [2000]

This may be the most technically impressive of their albums, further proving that while their energy and youthfulness is undeniable, these guys are also good at what they do. These songs stray from typical pop formats by having different parts and sections and being less quick pop tracks and more sprawling mini-journies. No wonder when thinking of this album it's less a cohesive whole and rather a collection of memorable tracks, from the whiplashy Moving to the bouncy What Went Wrong (In Your Head) to the multipart Beautiful People.
2 Life On Other Planets [2003]

As the title suggests, this is their most otherwordly album. It ends and begins with the same haunting fairground jingle and incorporates a slightly off-key piano for a rockiblly feel, especially when Gaz pulls an Elvis impression for a brief moment in La Song. It the most experimental of their albums, putting effects on the vocals and dabbling in electronic atmospheric elements. Though not lacking in avant-garde electronic flair, the songs still veer on the side of tightly intense pop songs, particularly the tracks like Never Done Nothing Like That Before and Brecon Beacons. But, the fuzzed out electronic outro in Run certainly shows a cool vibe supergrass hadn't shown before, or really, since.
1 I Should Coco [1995]

But this is their masterpiece. Perhaps not technically impressive or particularly introspective, it is still Supergrass at their absolute best. They were 19 when they recorded this, which is why it embodies the whole spectrum of reckless teenage-dom. This album is about energy, it's about fun, it's about reckless abandon. Its not the commercialized youth we see pushed on us through tv and film, this cuts to the very core of what it's really like to be young, for better or for worse. Alright is the soundtrack to youthful summer holidays and I'd Like To Know is the fast paced desperate urge to hang out with the 'strange ones'. Caught By the Fuzz is about being young and stupid and getting arrested in one of the catchiest and most enjoyable songs to come out of the Britpop scene. It doesn't glamourize or give into self-righteous melancholy but rather proclaims, quite simply, "We are young, we run green, keep our teeth nice and clean, See our friends, see the sights, feel alright!"